TaC-Together against Cybercrime
Stand C6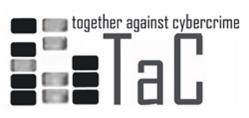 TaC – Together against Cybercrime is a global non-profit making organisation against cybercrime. The main goal of this organisation is to fight eCrimes at an individual level. The TaC office is based in Strasbourg (France).
Thanks to our specialised knowledge, our aim is to inform and help all citizens as individums in all spheres of their lives: in their role as employees in the public and private sectors, in their role as CEO's of companies, in their role as parents, but also during their free time.
TaC presents different existing approaches and follows new influences and ideas proposed and accomplished at the field of the fight against cybercrime by researchers, lawyers and law enforcement representatives, public and government sector actors, security and computer engineers, encoding professionals, sociologists and psychologists working on this subject, representatives of international organisations as well as national deputies.
Our organisation is a gathering point and a centre for the dissemination of information and expert advice. TaC is a bridge between the gathered information coming from different sectors involved in the fight against cybercrime and our society in order to eliminate and wipe out eCrimes.
Website

www.againstcybercrime.eu

Tätigkeitsbereich

TaC proposes today a number of activities in the field of development and promotion on cybersecurity culture and especially:

-Awareness raising activities for Youth in the field of responsible and safer use of ICTs;
-Specialised trainings for Youth and their parents in cooperation with Schools and Universities.

Leitung

Representative:
Ms Yuliya Morenets
Tel/Fax: +33369731460
contact@againstcybercrime.eu